About :
EAISCO Freight & Shipping
Extra Services :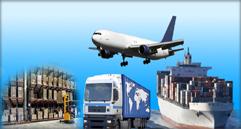 Extended to our freight forwardering services ..
we holding Import & Export  trading License serving those clients who interested to use our trade license for importing, exporting cargo , beside readiness to perform trading deals all types meet our country needs.
Our Port Sudan Branch is proudly, implementing transporting service for CMA-CGM-SUDAN, as appointed agent.
Service Items :
Our clients enjoying the following unique services:
Quality and commitment are mandatory terms for logistics business. The differentiating factor which keeps one ahead of the other is SPEED and ACCURACY. We treat each and every shipment as it should be…its own, unique transaction. Each customer has different need and we make sure these individual needs are met; and they are met on a professional and timely basis.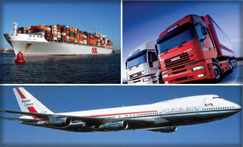 By involving from the planning stage right through to the final stage of the delivery, we at EAISCO ensure that all promises made are met and we have a satisfied clientele irrespective of their size.
Being expert in selecting and combining global logistics resources, EAISCO core competency lies in its tailor-making transportation solutions for every single project. EAISCO  is handling out of gauge or extra-heavy equipments; EAISCO is operating sensitive and valuable commodities; EAISCO is offering breakbulk ocean service. In addition, EAISCO is also providing general FCL、LCL service、air service、land trucking and barge service.


DOOR DELIVERY SERVICES
 EAISCO is providing true door-to-door delivery service of "everything" from minor parcels, personal effects and relocation of household goods - to containerized and Break Bulk Cargo, Chemicals and Sensitive Equipment, Heavy-lifts and major projects. We arrange Sea- and Air-freight Internationally, in addition to Domestic Transportation via Rail, Road, Air and Waterways. Our services include Customs Clearance, Cargo Insurance and coordination of all procedures related to exports and imports of goods in the Sudan, including documentation. In other words an A-Z logistics service provider, second to none in the Sudan.
INLAND TRANSPORTATION
EAISCO Through long standing relationships with of haulage ,and courier transport companies in the Sudan we can arrange the transportation for your cargo to their destinations ,safely and timely at a more preferential rate than you as an individual can obtain.
Our road freight service includes :
LCL Trucking
FCL Haulage
Special equipment handling
Heavy lift
Railway Transporting
AIR FREIGHT SERVICES
Through the air cargo services of the world's most reputable airlines, we can offer carriage of goods to literally any airport worldwide - and beyond - with delivery to remote destination through our international network of forwarding correspondents. EAISCO both for local and international customers from small parcels up to full charter, enjoying the full support of our efficient operations/clearance team and our field coordinators.
Our Airfreight services include:
Hazardous and heavy lit Goods Air Transport Service

Airport to Airport

Airport to Door

Door to Airport

Door to Door

Direct and consolidation service

Packing

Customs clearance

Warehousing & Distribution
Project Service
For project cargo and oversized and extra-heavy shipment, Speed-up is
offering the following services :
-Budgeting Turnkey Projects
-Planning and Route Surveys
-On-Site or En-Route Supervision
-Heavy Duty Trailer and Low-Bed Trailer Trucking
-Chartering multi-purpose Vessel, RO/RO Ship and River Barge
-Air and Sea Services for all kinds of Heavy Lift and Over-Sized Cargo
-Providing Crane, Jack and other Lifting, Rigging Equipment etc
-Industrial Packing and Crating
-Documentation
-Transport Insurance
-Warehousing

OCEAN FREIGHT SERVICES
EAISCO in comparison to most of our competitors in Sudan, is an independentfreight forwarder, having no ties nor commitment to a shipping line or –agent, hence we enjoy the comparative advantage; "freedom of choice" to use any shipping line or
Sea Freight Service, achieving the most cost-efficient, value for money service, that money can buy, being it high priority precious and perishable cargos with time-constraints for delivery – or - low value cargo where the time-factor is not crucial:

Breakbulk、Ro/Ro 、Barge Service

FCL、LCL Ocean Service.

Special Container Services, ex. Flat Rack, Open Top, and Refrigerated

Containers
CUSTOMS CLEARANCE AND DOCUMENTATION
Through our "in-house" customs clearance personnel, we provide full customs clearance service at all custom station within Sudan Starting from Main Sea Port (Port Sudan)
& Suba Custom Station Beside Custom Station at Garry Free Zone.
As well Khartoum Airport, including all the necessary documentation and value added services required in connection with the clearance procedure itself, such as, but not limited to approvals from the various Governmental bodies, Ministries and the Central Bank of Sudan.